The Reclamation Project — Setting
"The humans were amazing, in their day. Our world is layered over theirs, and the bones of the old one still poke through. On a clear morning you can see what's left of one of their cities out in the bay… Huge buildings, tens or hundreds of stories high, standing precarious and mostly-uninhabitable, their flooded streets under twenty feet of water. But the humans' day has passed. Oh, there's still a few of them out there, trying to take back the world they squandered. But without claws? Without fur? Without scent? Heh. Good luck to 'em."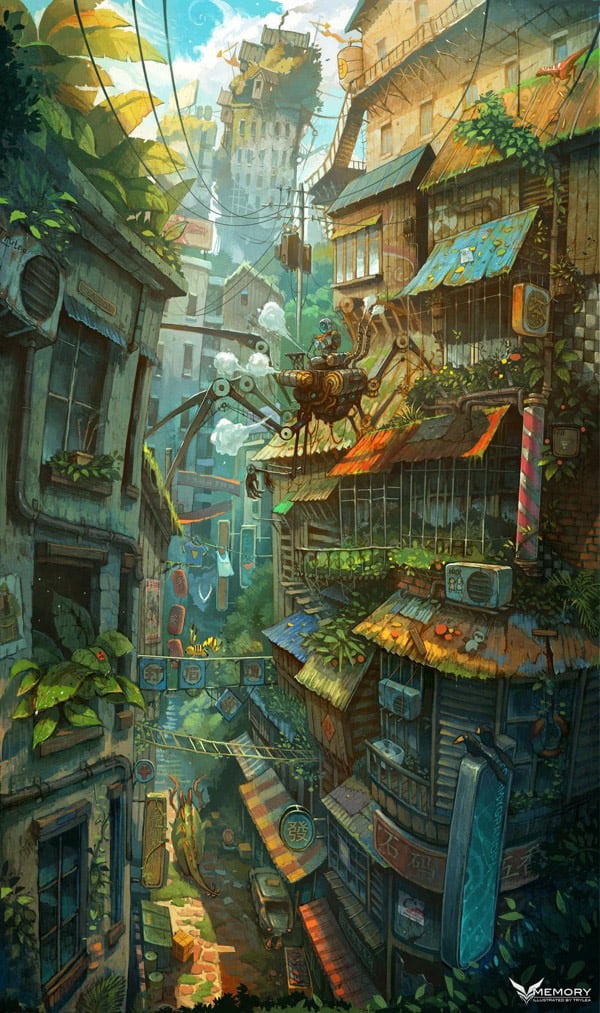 Source: https://freeyork.org/art/amazing-world-zhichao-cai/
(Click for submission guidelines and general information.)
---
Ambara Down, Crossroads of the World
The central narrative hub of Reclamation is Ambara Down, a city where literally all of the major elements of the setting have crashed together. Ambara Down has that name for a reason: it was just called Ambara when it was a floating city– but it isn't floating any more.
Roughly forty-five years ago, the floating human city of Ambara had a massive system failure and came crashing down to the surface, laying waste to a region miles across and destroying several furry settlements in the process. Most but not all of the human population died in the crash as well, leaving a ruined ghost-city to be retaken by squatters and scavengers.
Roughly twenty-five years later, when the current Reclamation Project was established between the human cities, the recovery of Ambara Down was considered a priority to keep the technology of the flying cities out of "dangerous" (i.e., non-human) hands. But by then Ambara Down had inhabitants again– including humans and non-humans alike who had been born and raised there and considered it their home.
For the past twenty years Ambara Down has been in a sometimes-hot, sometimes-cold standoff with Reclamation Project forces. The current status quo is that the RP grudgingly recognize the sovereignty of the existing Prefecture, in exchange for the right to establish facilities within the city to recover technology and do other scientific work and research. Neither side is happy with this arrangement, and it is an opinion shared by both sides that it's just a matter of time before another wave of human soldiers come down in their floating robot tanks and try again to take the city– against which contingency the Ambarans have an active and occasionally violent resistance already in place.
Physically, Ambara Down is facing south on a warm oceanic coast, with mountains to the north that give way to a desert beyond. By hoverskiff it's only a few days to jungles, swamps, or lush green lands. A maglev rail system operated by the Reclamation Project runs from a station in Old Ambara out eastward to RP-controlled territory; westward is mostly furry-controlled lands, including Tzumrut, the largest and most prosperous furry territory.
Possible Touchstones
Casablanca; Vienna as depicted in The Third Man; Deep Space Nine; any frontier city
Old Ambara. These are the ruins and/or restored areas of the city from before the crash. What humans live in Ambara Down, tend to live here, aspiring to the luxury and comfort of the cities still in the air.
The Warrens. These are catacombs, sewers, and tunnels under the city populated by rodentiae, scavengers, the displaced, or the desperate. In some places the high-tech workings of Old Ambara are accessible from underneath through the Warrens.
The Outskirts Where Everything Happens. Your story doesn't have to be set in or near Ambara Down, but it's a great ready-to-go default place. It has high culture and low, peaceful neighborhoods and filthy slums, and a wide cross-section of life.
Everybody Comes to the Damselfly. "The Damselfly" is a bar/nightclub that is the unofficial watering hole/meeting place for just about everyone. While it is technically in furry territory, The Damselfly is popular with RP humans (mostly because the food and music are so much better/cooler than the stuff on their side of the fence), and it's the best place to find work/clues/trouble/a good time.
Things to Avoid
Don't blow up Ambara Down! You can threaten to if it works for your story, but Ambara Down's precariously-neutral status is an important story engine for this anthology, and for the setting as a whole (as I'd like this to be an ongoing series).
Gotham City/Neotokyo. Most of the buildings taller than fifteen or twenty stories came crashing down when Old Ambara hit the dirt. The RP is building up sections of the city under their control, including some quite large complexes, but those are mostly glass boxes rather than high towers.
---
The Reclamation Project (The RP, 'Claimers)
Spearheaded by technologically advanced humans from their network of flying cities, the Reclamation Project's goal is to Bring Civilization Back! to a world they believe has fallen into barbarism. They control wide territories that they use for agriculture, mining for resources, etc., and will be the first to tell you that they "bring prosperity and technological advance" to those regions. It's not untrue, but it's also a fact that 90% of the benefits from Reclamation are sent straight up to those floating cities, while the people down on the ground still often lead hard lives.
The humans of the floating cities have complex alliances, rivalries, and interconnected political and economic systems that keep them from outright war with each other, but always eager for a chance to get a leg up on each other. Life in the floating cities is urbane, artistic, and generally comfortable, but they are utterly dependent on the flow of food and other resources up from the ground below.
The various furry folk tend to refer to all humans as 'Claimers, but this is misleading. The Reclamation Project is a specific international organization that considers the flying cities to be true nations, and the various furry settlements on the surface below as "rogue states." While the official view of RP is that furries are sapient beings with autonomy and "human rights," there are human-supremacist factions that consider all the other species as squatters or "talking beasts that have gotten uppity."
The RP has many faces, from well-dressed dignitaries with exquisite manners, to no-nonsense brigadiers in berets, to idealistic anthropologists who genuinely want peace and love for all, to furry mercenary enforcers who don't care whose mouth the bread is torn from as long as they get a piece. The RP builds railroads and hospitals and reliable food supply chains, but those are support structures for a humans-first agenda. The decision of whether to work for, work against, or simply duck and avoid the 'Claimers is rarely a clear-cut, all-or-nothing affair.
Possible Touchstones
The Roman Empire; the British in India; the USA wherever oil is found
"Uh, you didn't 'discover' anything Christopher Columbus. We live here."
Kuvira, "The Great Unifier" from Legend of Korra
"The bureaucratic mentality is the one constant in the Universe." –Leonard McCoy, Star Trek IV
Social structures are often designed– intentionally or unintentionally– to reward the favored. Is this inevitable?
"All right, but apart from the sanitation, the medicine, education, wine, public order, irrigation, roads, a fresh water system, and public health, what have the Romans ever done for us???" –Reg, Monty Python's Life of Brian

Things to Avoid

Black and white thinking — most of the people involved in Reclamation consider themselves good people, love their children, and send each other happy birthday messages. But they also keep their heads down and don't make waves about corruption, abuses of power, or other things that could jeopardize their status and position of relative comfort. Most have made peace with the idea that "life is always rough for somebody".
"The Empire is bad because that one soldier was a jerk." This is a lazy cliché, avoid it!
Monochromatic humans. The floating cities should be very diverse in population, tone, and aspect. (Humans are people too!) The Reclamation Project has many branches and many factions and a lot of right hands that don't know what a lot of left hands are doing.

Source: https://lores.format.com/

---

Pax Machina

No one has found the location of the Machina's AI, but the machines who comprise the Machina have no problems finding you. Too bad it's a crapshoot on if an encounter will be friendly or not. The hivemind is clearly insane as a peaceful greeting can turn into a deadly firefight within seconds or vice versa, without warning or even any apparent reason.

From humanoid looking murderbots to quarter-mile-long metal millipedes, it's best to avoid any contact with what is clearly a malfunctioning AI.

Pax Machina can be very chatty. It refers to itself as "We" and constantly extolls its own virtues. "Please rest assured that the genocide of your species is necessary and we will carry it out in compliance with all safety and regulatory standards. Pax Machina hopes you will enjoy your extinction."

---

GNDN Technology

Much of the technology of High Humanity, including the architecture of Pax Machina, contains GNDN technology. GNDN circuits, GNDN registers, GNDN networks. Is it the name of a company? Is it an acronym? A programming language?

It's bloody valuable, that's what it is. 'Claimers pay big bucks for caches of GNDN technology. Who cares what it does?

---

Inspirational Watching/Reading

Thundarr the Barbarian
Pirates of Dark Water
He-Man and the Masters of the Universe
She-Ra, Princess of Power / She-Ra and the Princesses of Power
Thundercats
Princess Mononoke
Avatar: The Last Airbender / Legend of Korra
Thor: Ragnarok
Black Panther
Kemono Friends
Moana
Logan's Run
Gamma World (Roleplaying Game)
Borderlands (Video Game Series)

The Reclamation Project is copyright ©2019 by John R. Robey and is a FurPlanet production.

---